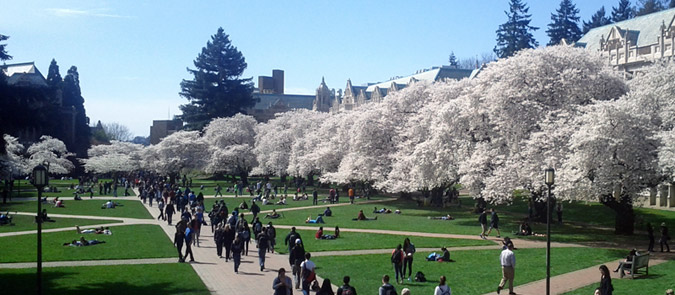 As promised by Marie a post or two ago, here's photo evidence that spring is here in Seattle. The cherry trees in the Quad at UW have bloomed and what a great day to capture of a picture of it! Last night I told Marie it would be nice out today and she dared to question me saying "You think you know better than Steve Pool [Local weatherman on KOMO]" and I responded "Yes, you'll see". And see she did; it's approaching 60º and there's barely a cloud in the sky let alone rain falling from them! So Ha! It looks like I was right.
Everything is going great here. Things are really ramping up at work and I have a good handle on my role and what's expected of me. I'm really enjoying my job here and things are really going well for both me and Marie overall.
Random fact: the grass stayed green here all throughout the winter, never took on the dead look like it does in Michigan every winter.