Our Relocubes from ABF have been delivered! They were scheduled to be delivered yesterday in the afternoon, but the folks at ABF called us up yesterday and let us know that their fleet of 2 delivery trucks was reduced to 1 and our cubes were going to be delayed. They were pretty cool about it though, and the poor guy who was delivering must have been working his butt off. They kept us updated throughout the day and our cubes were finally at our apartment at 11:30pm. It worked out well though since we were at my Dad's for a going away party from 6-10. He only lives 5 minutes away, so we were ready to leave temporarily to accept delivery should they have been delivered then.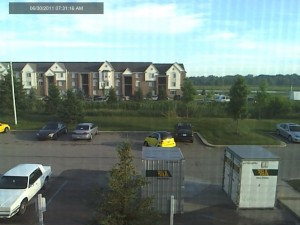 Since I'm such a geek, I setup a webcam pointed out our window that takes pictures on movement detection. (Geek notes: I'm using a mac mini + Periscope + a logitech c910. The picture quality is normally better with that webcam, but it's behind a screen). Here's a shot from the cam of the cubes and us (we're in the smart car) leaving for work this morning. The pictures from the cam are pretty boring… If they were more exciting I think I would have made a time lapse video from them, but I don't think it'd be worth looking at right now.
Our going away party at Dad's place went well. Marie and I both had a ton of fun in spite of the Relocube delay.  It was great having everyone together, and the weather was perfect. We'll definitely miss our family and friends here in Michigan, but luckily the internet will make that more bearable than the pre-internet days (seriously, what did people do back then?).
Tonight is loading day so we'll be packing the cubes and getting them ready to go across the country tonight. We've already recruited some helpers and we plan to feed them pizza too. I bet you're all jealous that you don't get to help now, aren't you?