I'm a little overdue for this post about our trip to Michigan a few weeks ago, whoops! While we mostly spent time visiting family, we did a few new things, too.
Detroit Zoo
Despite living in Michigan for the better part of a decade, I'd never been to the Detroit Zoo. Nick and Margaret hadn't been there in years either, so we spent a day at the zoo!
The Detroit Zoo is a bit bigger than Seattle's Woodland Park Zoo. Detroit has about 3 times as many animals, but WPZ has more species.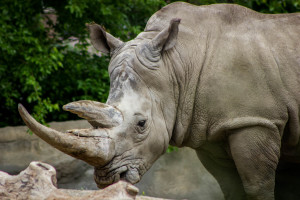 Probably the coolest (ha ha, pun) exhibit at the Detroit Zoo is the Arctic Ring of Life, which opened in 2001. It is the largest polar bear exhibit in North America and is also a home for arctic foxes and seals. Visitors can walk through a large transparent underwater tunnel and watch the animals swim. Unfortunately, the polar bears were not cooperating while we were there! We didn't get to see them at all!
I also liked the prairie dog exhibit. You can walk all the way around the exhibit and watch the prairie dogs burrow. Kids can go underneath and look out from inside two glass viewing areas in the middle of the exhibit.
I think everyone's favorite were the rhinos, though. We don't have any at Woodland Park Zoo and they are massive animals. Pretty cool to see in person.
See the rest of the photos in our Detroit Zoo album on Flickr.
Stahls Auto Museum
We also went to Stahls Auto Museum, which is a vintage car museum that opened a few years ago in Chesterfield.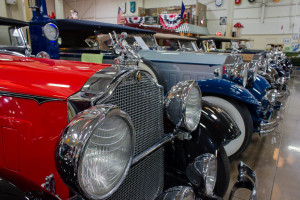 Stahls has over 80 cars on display, the oldest being an 1886 Daimler prototype. The cars aren't roped off, so visitors can go up to them and look inside. There are a few cars they let you climb inside, too.
The most expensive car in the museum is the 1948 Tucker Torpedo Sedan, which is worth about $3 million. Only 51 of these cars were ever produced. The car was in the 1988 Jeff Bridges movie, Tucker: The Man and His Dream.
At the front of the museum, there is also a collection of automated musical instruments from the early 20th century. A docent told us about the various instruments and played several of them for us.
There's also a 1924 theater organ that an organist plays periodically. It has more than 1500 pipes, which are distributed throughout the museum. The biggest pipe is about 17 feet tall and the smallest pipe is smaller than a pencil. There is a video of the organ below:
If you Michiganders want to go, Stahls is open on Tuesdays 1-4 pm and the first Saturday of the month 11 am – 4 pm. Admission is free, but a donation is appreciated.
See the rest of the photos in our Stahls Auto Museum album on Flickr.
Bonus Photos
We had a fun project during our trip. A ceramic lawn gnome we had gotten for Margaret years ago had lost almost all of its color, so we chose new colors and painted him by hand. He turned out SO cute! His name is Marickine, an anagram of Nick and Marie.
When we got back from our trip, we stopped at my mom's to see the litter of beagle puppies that had been born earlier that day. It's Mom's first litter in 6 years and, if you're interested, you can read more about the litter on her blog.