Nick and I recently went to Seattle Public Library's downtown Central Library and the Seattle Art Museum with our friend, Sean. It was the first time Nick and I had been to the Central Library (*gasp!*) and Nick's first time visiting SAM (I had been there before, but it had been a long time).
Seattle Central Library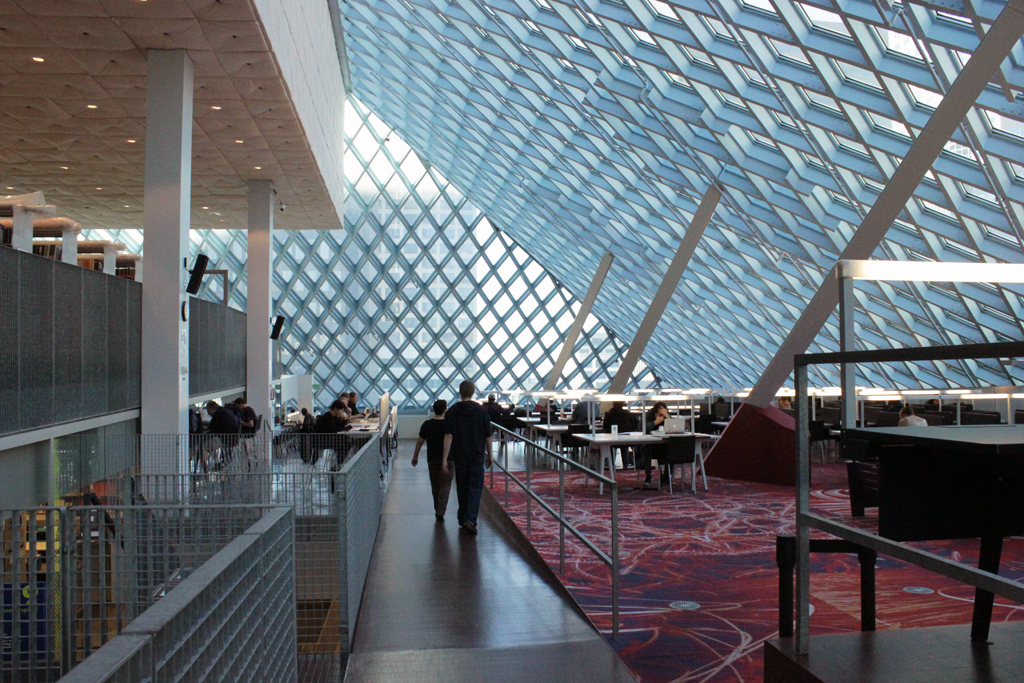 Downtown Seattle's 11-story glass and steel Central Library was opened in 2004. One of its major features is the "Books Spiral," which is a 4-story gently sloping continuous spiral of nonfiction books. The Central Library has lots of reading areas, hundreds of public computers, and an auditorium. It also has a really impressive automated check-in and sorting system.
We didn't spend a lot of time at the library, but we went up to the top and walked down the spiral. One thing I didn't like was a weird, disorienting red corridor that is a bold, bright red everywhere on the ceiling, walls, and the floor. Sadly, I didn't get a picture of that.
Seattle Art Museum
In addition to its permanent collection, SAM's featured temporary exhibition while we visited were was City Dwellers: Contemporary Art from India (through February 16, 2015). SAM allows photography, so I brought my camera with. Using a flash, however, was not allowed, so please pardon the crummy photos. 😛