Hi, everybody! Sorry for the lack of updates. Nick and I are both doing great; we just haven't had much to blog about lately. Here's what we've been up to:
Mariners Game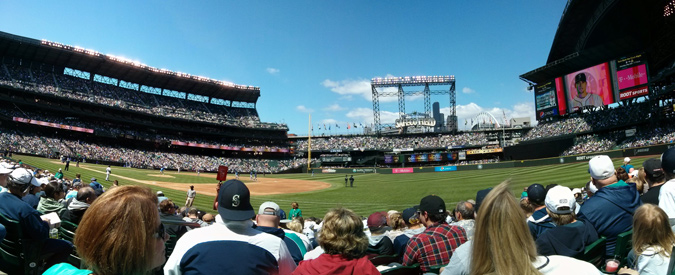 Mom won tickets to a Mariners game in a raffle at work, so Nick and I spent Mother's Day at Safeco Field with Mom and Amanda. The weather was fantastic, but we all got a bit sunburned. For some reason, my nose got especially burned, so I looked like Rudolph for a few days. 😛 The Mariners didn't field the ball very well (5 errors) and lost the game 7-9, but we all had a good time.
One of the awesome things about our house is that we have great bus access. We generally take the bus when we go anywhere downtown or to the stadiums south of downtown, which is great because we don't have to deal with the stress and expense of driving and parking.
Marrakesh
We went to Marrakesh Moroccan Restaurant with Mom and Amanda last weekend. Mom and Amanda had been there before, but it was the first time for Nick and me.
It has a great atmosphere and you eat with your hands, which is traditional in Morocco.
Dinner was served in multiple courses: salad and lentil soup, b'stilla royale (phyllo dough filled with ground chicken and topped with powdered sugar), the main courses, and dessert and mint tea. For the main courses, we ordered Tangine of Chicken Lemon and Olives, Tangine of Braised Hare, Couscous Marrakesh (couscous with lamb and vegetables), and Brochette Marrakesh (grilled lamb), which we ate family style. Everything was delicious. I especially liked the cumin, paprika, and garlic sauce that came with the hare.
Gardening
So far this year, we've planted basil, beans, chives, cilantro, cucumbers, dill, lemon balm, oregano, parsley, raspberries, snow peas, strawberries, tarragon, and Thai chili peppers. A lot of these are plants that we had last year, but we're also trying out some new ones: beans, dill, oregano, snow peas, and strawberries.
The primrose we planted along the walkway is still blooming, but it requires more maintenance than we were expecting. It blooms frequently and you have to remove the old blossoms and leaves. We love the color it adds to our backyard, though.
Upcoming
Nick and I have been wanting to go for a hike lately, but iffy weather and changes in plans keep delaying it. I hope we'll be able to go this weekend, but it looks like it might rain. Anyway, expect a hiking trip blog post soon!
This fall, Nick is going to move to a different building at work. He's looking forward to the walls of floor-to-ceiling windows that offer a great view of Seattle.
But what we're most looking forward to is that Nick's mom is flying out to visit us in September. We're already coming with ideas of things to do while she's here. By the way, she has a shop on Etsy now, Design by Meg, in case you're looking for some wire art to decorate your home. 😉