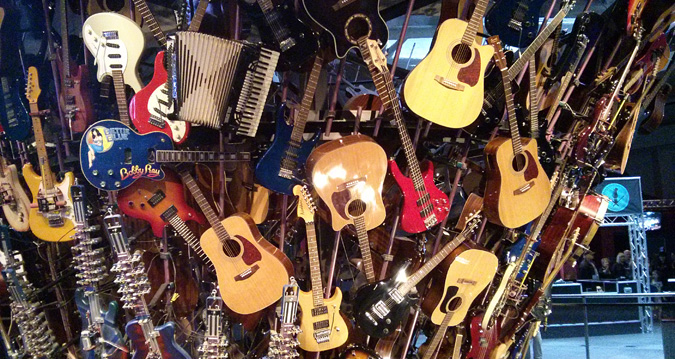 Today, Nick and I went to the EMP (Experience Music Project) Museum. The EMP is a funny-looking building in Seattle Center whose design was inspired by smashed electric guitars. It is home to pop culture exhibits from music to science fiction to fantasy as well as the Sky Church, a performance space with one of the largest indoor LED screens in the world.
The current exhibits at the EMP are about Jimi Hendrix, science fiction, Nirvana, fantasy, and horror films. There's going to be a Lego exhibit in a few months, so Nick and I might have to go back to see that. 😉 The science fiction and fantasy exhibits were definitely our favorites, but we're geeks. 🙂
Pictures are below. Sorry for the bad quality, but they were taken with my phone and flash wasn't allowed. The picture at the top is of the massive guitar sculpture in the EMP, which is made up of more than 500 musical instruments.