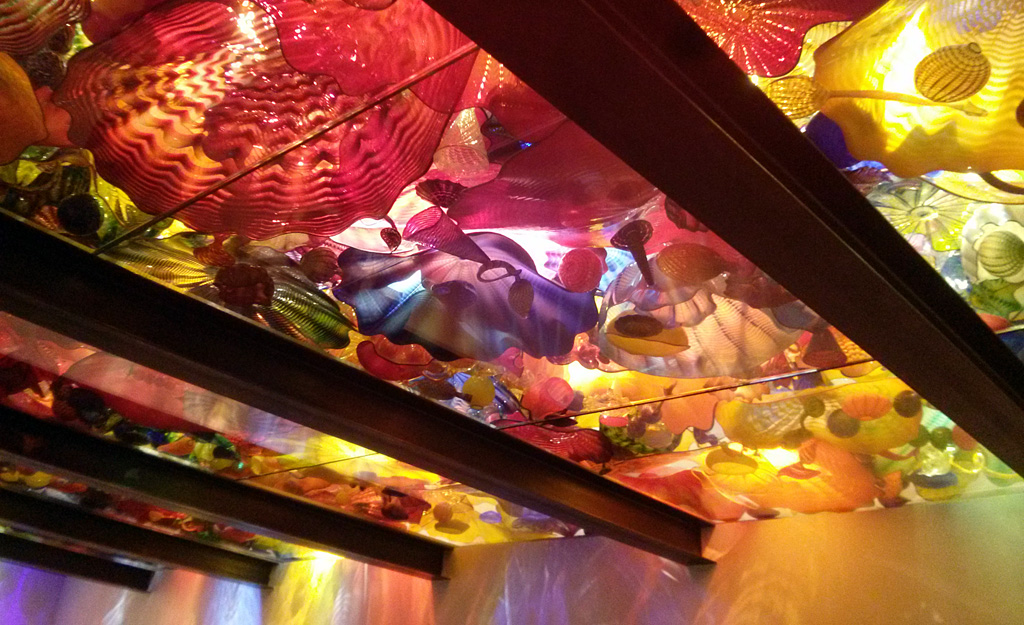 Chihuly Garden and Glass
On Mother's Day, a friend of Mom's from Sweden was visiting, so we (Mom, Amanda, Nick, and I) showed her around downtown Seattle. Nick and I took the bus down and got there a little early, so we could pick up a few things at Pike Place Market.
We met up with the others at the waterfront, because Mom's friend was arriving via the Victoria Clipper (ferry from Victoria, BC to Seattle). We walked through the Olympic Sculpture Park and then headed over to Seattle Center. We saw the International Fountain and then visited the Chihuly Garden and Glass Museum. Dale Chihuly is a  world-famous glass artist from Tacoma, WA, and this new museum showcasing his work opened last year.
Unfortunately, we hadn't planned on visiting Seattle Center (particularly, the Chihuly Museum), so we didn't have our camera with us. 🙁 I used my phone to take the photo of the Persian Ceiling room above, which was my favorite part of the museum. There were tons of colorful glass pieces on the ceiling and the light shining through made the room a rainbow of beautiful, bright colors.
Woodland Park Zoo
On Sunday, Nick and I went to Woodland Park Zoo with Amanda and our friend, Sean. There are lots of baby animals at the zoo right now, so it was an exciting time to visit.
Gavin the porcupette was trying to hide in the grass while we were there, but we were able to catch a glimpse of him. The twin sloth bear cubs are supposed to be on exhibit now, but their habitat was empty while we were there. The fuzzy little tree kangaroo joey (which I'm really looking forward to seeing!) is still living behind the scenes with its mother, but you can watch it online via webcam for now. The quadruplet lion cubs were definitely the most fun to watch. One of them found a cardboard box to play with, which made one of its brothers or sisters jealous. 😛
Nick and I took a bunch of photos during our trip to the zoo, so be sure to check them out at the link below!
Flickr photo set: Woodland Park Zoo