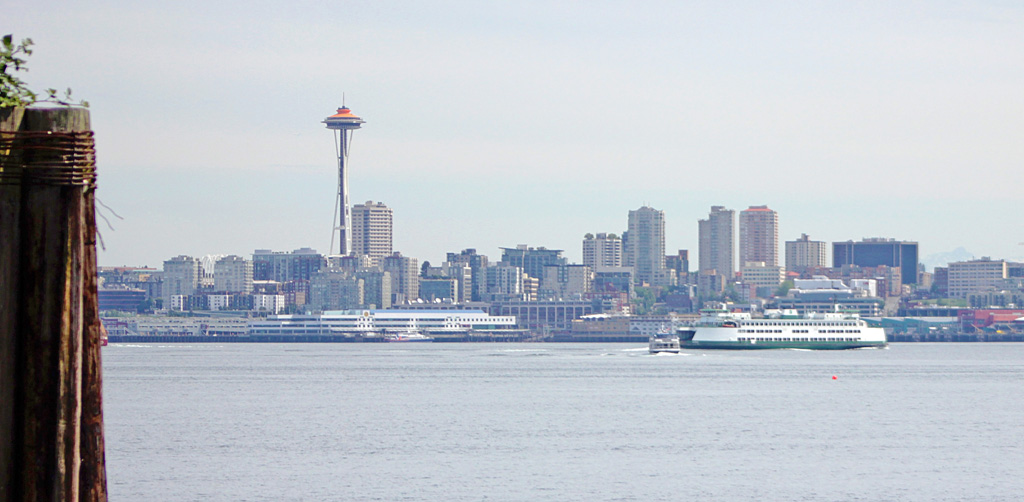 This morning, we all went to West Seattle to meet up with Mom and Amanda. We got there a little early, so we stopped to take some pictures of downtown (see picture above – the Space Needle is orange "galaxy gold" in celebration of the Seattle World's Fair 50th anniversary). We walked around Alki Beach Park for a little while, too, before Mom and Amanda got there. We went to Duke's Chowder House for lunch, where we enjoyed all sorts of delicious seafood.
Donna hadn't been to Seattle before, so we went to Pike Place Market after lunch. Even though we were there in the middle of the day on a weekday, it was still packed full of people. Donna bought some really neat handmade blown glass art and Nick and I picked up some awesome Seattle artwork for our new house.
We were all exhausted by the time we got back to our apartment, so we relaxed for a while and had an easy dinner of burgers and garlic fries from Kidd Valley. After Margaret and Donna left, Nick and I took a load of boxes over to the house and unpacked most of them. We can't wait to fully move in!
Update: Added a photo of Nick's fish and chips from Duke's.