There are a few funny things about Michigan that I've learned about since moving here. Here are just a few. 🙂
Fish flies
Well, we sure aren't going to miss fish flies. Most of you probably don't know what a fish fly is, so I'll get to that in a minute.
Today, we went to Sammy's (Paul's daughter's) graduation party with Nick's mom and her boyfriend, Harry. Paul always throws great parties and this one had a Chinese theme.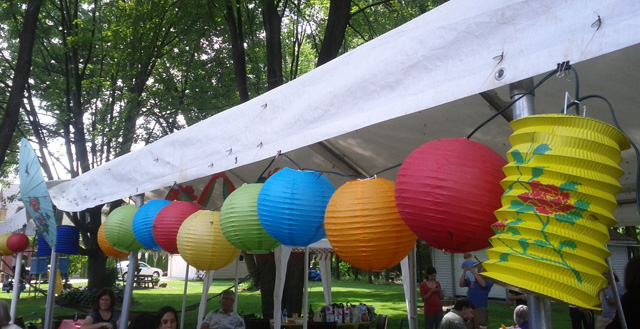 The bugs in the picture are called fish flies (or, apparently, mayflies). They come around in swarms for a few weeks at the beginning of summer each year. Each fish fly only lives for a day or two. They don't sting or bite, but they sure get everywhere. Nick's mom tells a story about driving on a road covered in dead fish flies and hearing an unending "crunch, crunch, crunch." Ick!
Nick and I live (at least for another week!) just far enough away from the water that we don't encounter fish flies, but Paul lives right on the water, so he gets a ton of them at his place. They weren't as bad today as they have been in years past, but there were still plenty of fish flies at the party today and I'm not sure this picture quite does it justice. In spite of the fish flies, it was still a good party… good food, good weather, and good people. 🙂
Jobbie Nooner
Another Michigan oddity is Jobbie Nooner, which took place yesterday. Jobbie Nooner is sort of a Mardi Gras-style party in which people take their boats out to an island and spend the day partying. Needless to say, Nick and I have never taken part in it. 😛
No Need for Maps
Probably my favorite Michigan oddity is how people from Michigan use their hands as maps. When you take your right hand and turn it palm-side up, it resembles the state of Michigan. So, it's not at all uncommon for Michiganders to point at their hands to indicate where in the state places are.
In other news, Nick and I started to tackle the kitchen today. We gave his mom most of our perishables, we packed up our pots and pans and a set of dishes, and we packed a couple boxes of pantry items. Tomorrow, we have all day to pack. Hurrah!